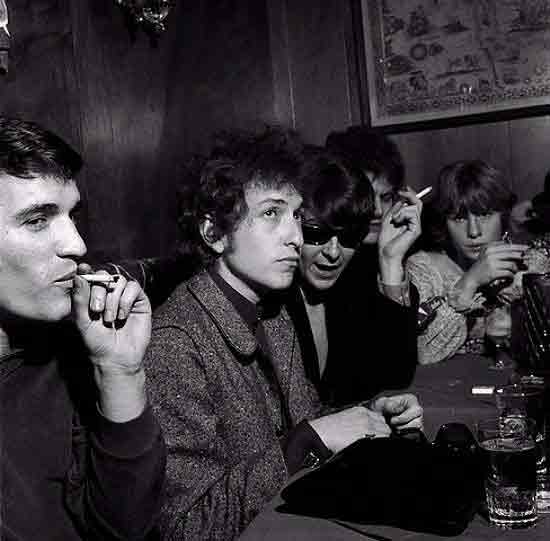 Jerry Schatzberg's shot of Bob Dylan in a New York studio - unusual in that the singer is unguarded, and not posing for the camera - was taken in June 1965, during the recording of the Highway 61 Revisited album.
Schatzberg was making his name as a fashion and portrait photographer when he got a call from Dylan's then-girlfriend Sara Lowndes to say that if he wanted to take shots of the rising star and his newly acquired electric backing band, he was welcome. "Sara was a friend, and she and Nico [who later sang with the Velvet Underground] had been telling me about Dylan for a while," remembers Schatzberg. "They took me down to see him play in the Village. After that, I was very keen to take his picture."

Schatzberg got to see a side of Dylan that was distinct from the one emerging in the public consciousness: he was playful, co-operative, and excited by the music he was making. "It was an ideal situation because he was absorbed by his work and he let me get on with mine. He was fun and willing to do anything, but he came across badly in the press at the time because the reporters' questions didn't match up with what he was thinking.
I remember someone asked, 'Do you believe in nature?' His reply was, 'I don't believe in any drugs.'"
The shot also coincided with Dylan's denunciation by the folk world that had supported him. His performance at the 1965 Newport folk festival, with an electric guitar and backing band, had outraged the acoustic purists, and he followed it with a tour that mostly consisted of sustained boos from the audience. "I went to see him in concert at Forest Hills in New York, where he was booed," remembers Schatzberg. "We went to [Dylan's manager] Albert Grossman's apartment in Gramercy Park afterwards, and Dylan was in a rage because he was absolutely sure of what he was doing. It's not the job of an audience to tell an artist what they can and cannot do."
Comentarios > Ir a formulario