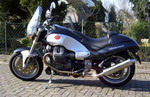 http://www.centauro-owners.com/phpBB2/viewtopic.php?p=11586#11586
All the Centauros had the "pump down" front brake problem from new, and it was shared with 1100 Sports and Daytona RS's built in the same 97/98 period. Basically, you can never tell exactly how far the front brake lever is going to move when you pull it. If you really want to get it to come close to the bar you pull, then half-way release, then pull again... and repeat. On many Centautos you can get the front brake lever all the way back to the grip playing that game.

It was probably a piston seal leakage problem designed in by the factory. Brembo stuff was really poor for a period in the 90s. Master cylinder piston seals rely on the pressure of the fluid to seal the lip, so without careful design, when pressure is released a little fluid leaks from high pressure to low, past the seal.

For most people, the usual solution is a new master cylinder. I use the same remote reservoir Nissin master cylinder that everybody used on Ducatis in the 90s to solve a similar problem on Ducatis with Brembo M/Cs. The Nissin was used on all kinds of bikes (Japanese, Triumphs, Cagiva Gran Canyon, you name it) and is high quality, inexpensive, and widely available. The brake feel is vastly improved, with the lever always pulling the same distance for the same pull.

Brembo fixed the problem around 2000, so if you want to stick with Brembo the master cylinders on 2000-on Ducatis and Guzzis are fine too.

Will

PS If the rear brake is fading you are likely using it too much. Think of it as a secondary brake, not to be used for serious, repetitive braking. Also, if you've faded it to the point of boiling fluid and lever moving without resistance, you should change the brake fluid.
Comentarios > Ir a formulario