Se muestran los artículos pertenecientes a Octubre de 2007.
1.
Rainy Day Women #12 & 35 (Bob on electric guitar, Donnie on lap steel)
2.
Señor (Tales Of Yankee Power)
(Bob on electric guitar, Donnie on lap steel, Stu on acoustic guitar)
3.
Just Like Tom Thumb's Blues (Bob on electric guitar, Donnie on lap steel)
4.
Simple Twist Of Fate
(Bob on electric keyboard and harp, Donnie on pedal steel, Stu on acoustic guitar)
5.
Rollin' And Tumblin' (Bob on electric keyboard, Donnie on electric mandolin,
Denny on slide guitar, Stu on acoustic guitar)
6.
Workingman's Blues #2
(Bob on electric keyboard, Donnie on pedal steel, Stu on acoustic guitar)
7.
Desolation Row (Bob on electric keyboard, Donnie on electric mandolin,
Stu on acoutic guitar, Tony on standup bass)
8.
Beyond The Horizon (Bob on electric keyboard and harp, Donnie on pedal steel,
Stu on acoustic guitar, Tony on standup bass)
9.
Honest With Me (Bob on electric keyboard, Donnie on lap steel)
10.
When The Deal Goes Down (Bob on electric keyboard and harp,
Donnie on pedal steel, Stu on acoustic guitar, Tony on standup bass)
11.
Highway 61 Revisited (Bob on electric keyboard, Donnie on lap steel)
12.
Ain't Talkin' (Bob on electric keyboard, Donnie on viola, Stu on acoustic guitar)
13.
Summer Days (Bob on electric keyboard, Donnie on pedal steel, Tony on standup bass)
14.
Masters Of War
(Bob on electric keyboard, Donnie on lap steel, Stu on acoustic guitar, Tony on standup bass)
(encore)
15.
Thunder On The Mountain
(Bob on electric keyboard, Donnie on lap steel, Stu on acoustic guitar)
16.
Blowin' In The Wind (Bob on electric keyboard and harp, Donnie on violin)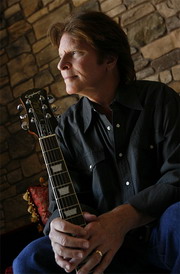 Hear that raucous beast stomping out of Green River's depths? It's the return of the swamp thing, the choogling signature sound of Creedence Clearwater Revival reborn on John Fogerty's new album, 40 years after he hatched it in a Berkeley, Calif., garage.
Revival, out today, celebrates the rock veteran's homecoming. Not only does Fogerty, 62, summon a long-banished muse, but his jubilant Cajun-fired roux is being served up by former enemy Fantasy Records, the label he battled for more than 30 years until new owners recently invited him back.
"It's surreal," Fogerty says of this full-circle odyssey. He chuckles and flashes a Fred Willard-like grin as he strolls from the corridor of his newly custom-built Spanish Mediterranean mansion in the Hollywood Hills. "For years, I wouldn't even say the word fantasy.
"In Berkeley, there was this business with a blue awning that said 'Fantasy,' and every time I drove past it, I felt horrible. A 20-minute diatribe would come out of me. If I heard a Creedence song on the radio, I pushed the button. I was very uptight."
Though Fogerty has been gradually reconnecting with his past in recent years, Revival taps directly into his roots with unabashed glee and gusto, wheeling out CCR's hallmark Southern grooves and itchy rhythms on tunes from jazzy spiritual River Is Waiting and rockabilly kicker It Ain't Right to hippie-dipped Summer of Love and countrified Gunslinger. Reigniting the anti-war rage of 1969's Fortunate Son are a pair of stinging attacks on the Bush administration, I Can't Take It No More and Long Dark Night.
He'll juggle oldies and Revival fare on a tour starting Nov. 2 in New York.
Career highs and lows
Fans feared he'd never find his way back. The tangled history: Releasing a self-titled debut in 1968 and three albums in 1969, CCR saturated the airwaves with Proud Mary, Born on the Bayou, Green River, Down on the Corner, Lodi and other hits before Fogerty's hostile departure in 1972 over contract disputes and band infighting. He quickly released a pair of solo albums but was so bitter over Fantasy's ownership of his music that he withdrew for 10 years and refused to perform his hits.
His popular Centerfield arrived in 1985, trailed by 1986's grim Eye of the Zombie, which prompted lawsuits from Fantasy owner Saul Zaentz. One, claiming copyright infringement, accused Fogerty of basing The Old Man Down the Road on CCR's Run Through the Jungle. Fogerty won but again retreated until 1997's Grammy-winning Blue Moon Swamp. He released the genre-hopping Déjà Vu All Over Again in 2004, just before Concord Music Group bought Fantasy and restored royalties Fogerty had relinquished to break his contract in the '70s.
The olive branch was extended before any discussion of signing him.
"I was hearing positive energy," Fogerty says, leaning back in a leather club chair beneath the gold records dotting the wall of his wood-paneled study. "They reinstated the royalties and then said, 'How do we approach this catalog?' That certainly was a new message."
His new Fantasy pact yielded 2005's The Long Road Home compilation of solo and CCR hits, followed by a live version in 2006.
"Some folks would keep that rehash thing going, but I was chomping at the bit to record new music," he says. "I had this ongoing conversation with myself that I should get back to my center and not allow myself to be distracted. I felt I had gone off on tangents. While those things are interesting to me, fans don't necessarily come with you.
"On Déjà Vu, I was into acoustic fingerstyle guitar. I've gotten a little too country at times. I've gone off the deep end. Stepping back, I realized, my real strength is intense rock 'n' roll."
When Fogerty began writing in January, the songs flowed as swiftly as they had in his 20s.
"The human mind doesn't always Google to the right place," he says. "Blue Moon Swamp was torture. I'd get an idea, but the completion of some songs took years. This time, I had quickly defined ideas."
Nowhere is Fogerty's reawakening more apparent than on the new Creedence Song, a proud self-referential ode to the songs he crafted in his youth. During the period he regarded his catalog as kryptonite, he often overheard patrons in diners and roadhouses requesting a "Creedence song" on jukeboxes. The tune celebrates the dismissal of demons.
"It's completely nostalgic and joyful, a good litmus test for where I am," he says. "For years, there was a syndrome where I'd get happily in familiar territory and be playing my swamp-rock thing and suddenly the gremlin of some lawyer or former bandmate would appear on my shoulder and go, 'No! You can't do that!' It destroyed those moments.
"This time, I told myself, 'Stay in your center.' I was doing this funky thing on the guitar and the phrase came to me, 'You can't go wrong if you play a little bit of that Creedence song.' I thought, uh-oh, here it comes. I told the gremlin to shut up, be gone. The Fogerty fan in me wants to be here and not cowering in the corner. It was a defining moment."
Though he feels empowered reclaiming his legacy, "I wonder if people realize I wrote those Creedence songs. In some circles, I'm an unknown entity."
Fogerty's dormancy "might have hurt his career in terms of his ability to fill stadiums," says Bill Flanagan, MTV Networks executive vice president. "At the same time, you can make the case that it kept alive the purity in his music.
"John has this remarkable ability to write songs that sound as innocent and joyful as the first songs he ever wrote. This record lives in that pure place. It's not early rock 'n' roll. It's young rock 'n' roll. If you put these songs next to Lodi and Proud Mary and Who'll Stop the Rain, you'd have a hard time picking which were written by the 23-year-old and the 62-year-old."
Matters of the heart
Long before Fantasy changed hands, Fogerty's career torments were eased by a change of heart, specifically his second wife, Julie, whom he met while on tour and married in 1991. They have raised sons Shane, 15, and Tyler, 14, and daughter Kelsy, 5.
"She saved my life," he says. "It's the most miraculous thing that can happen to a human being. You fall in love, you're loved in return, and that becomes more important than everything else. I started realizing how wonderful life is.
"I allowed myself to be vulnerable and stopped hanging on to those saddlebags of pain. I said: 'John, you got the winning ticket. The career stuff doesn't matter.' We've circled the wagons, and nobody can touch us. I know it sounds a bit Pollyanna."
Julie inspired Fogerty's first Revival composition, folk-rocker Broken Down Cowboy, about a shiftless, luckless gambler who "had a good hand, but he messed it up."
"I'm strumming away on this electric hollow-body guitar, making nonsense sounds as I usually do," he says. "And this plaintive phrase comes out — 'broken down cowboy, like me.' That got my attention like a nuclear bomb in the solar plexus. It made me cry, it made me happy, it made me thankful. It was about Julie and me.
"I knew that poor dude, but I'm not there anymore. I'm not wallowing in self-destruction and self-pity. I channeled several lines, a verse and a chorus real quick. It came from nowhere. It was a good rock 'n' roll moment."
Fogerty beams. The Rock and Roll Hall of Famer, an overgrown kid who waxes rhapsodic about AC/DC, still hungers for those moments.
"Rock 'n' roll has no rules. It should never be a bunch of elder statesmen saying, 'You can't do that. That's not traditional.' The best rock 'n' roll is a surprise. There's inspiration, freshness, intellect. Sometimes we happily turn off the intellect and get Wooly Bully. That's a good moment, too."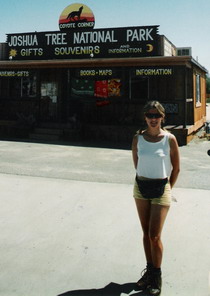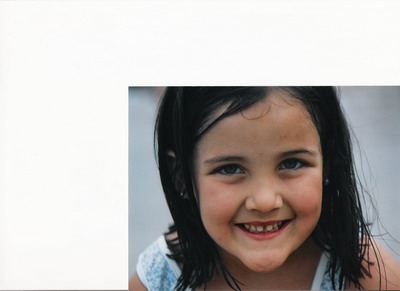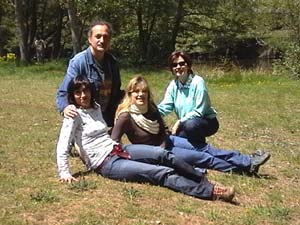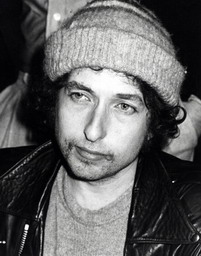 " Everybody plays in my world
aint nobody first second third or fourth
everybody shoots at the same time
an ringers dont count"
A letter from Bob Dylan
Heaven is an unending peace which passes understanding, not a totalitarian state. You are in a totalitarian state now. Big brother has you already. If you're lucky, God will get you next and set you free. You won't have to sit on a cloud and praise him for ever and ever. You'll just be in a state of pure consciousness forevermore, where you won't be able to remember any fear of death or suffering or pain or evil. You'll be glad then you didn't have a terminus and can no longer outsmart yourself.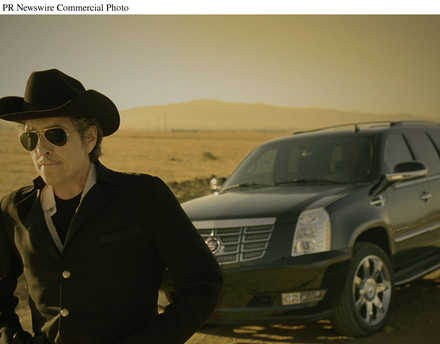 Bob Dylan has added Cadillac to his short list of product endorsements.
The Minnesota-bred folk/rock icon is featured in a television ad for the 2008 Escalade. The ad starts airing today.
The ad features Dylan behind the wheel of a Cadillac driving across a remote desert listening to the XM satellite radio network.
Dylan has one line in the commercial: "What's life without taking a few detours?"
Print and online versions of the ad begin running in November. Dylan has previously done ads for Victoria's Secret and iPod.
This article is courtesy of tricia.j and expectingrain.com:




Turn On the _base_ment Lights




Rock writer/Dylan freak Sid Griffin attempts to crack one of music's great mysteries.



By Justin F. Farrar

Published:
October 24, 2007


Music fans have been stuffed with enough Bob Dylan product to keep 'em fat through the next century. The music industry will pump out anything it can on the guy, no matter how repetitive or gratuitous. Dylan's longtime label,
Columbia
, just dropped yet another anthology of previously released material: the triple-disc set Dylan. And on October 30, Sony will release the Other Side of the Mirror: Live at the Newport Folk Festival DVD. It's far more interesting than Dylan, but still, a lot of this footage already appears in numerous formats.

But there are always exceptions, and this time around, it's

Sid Griffin's book, Million Dollar Bash: Bob Dylan, the Band, and the _base_ment Tapes

.

The _base_ment Tapes album might be rock's greatest mystery. In July of 1966, at the height of his popularity, Dylan crashed his motorcycle and suddenly dropped out of the spotlight amid a hurricane of rumors about nervous breakdowns, drug addiction, and even death.

Over the next year, he called Woodstock, New York, home and recorded more than 100 songs with his backing band, the Hawks (eventually rechristened the Band), in the _base_ment/garage of their nearby home, "Big Pink." But beyond a 24-track double LP in 1975 — a chunk of which isn't even true _base_ment Tape material — the recordings have only been available as crappy-sounding bootlegs. And that's all anybody really knew — until now.


Griffin
, a former member of country rockers the Long Ryders, is the first writer to shed serious light on this shadowy period in Dylan's career. Moreover, he unloads a totally refreshing perspective on the music, making novel connections to the Byrds, Velvet Underground, alt-country,
Americana
, and modern indie rock. And he does it all without a sliver of access to the man himself.



Scene

recently phoned Griffin at his London home and found a man totally obsessed and exploding with Dylan knowledge.





Unlike Greil Marcus' Invisible Republic: Bob Dylan's _base_ment Tapes, which only adds more mythology to the story, Million Dollar Bash reads like a detective story that methodically attempts to solve the mystery behind this music.



Marcus is a great writer, but he gets off the subject of the _base_ment Tapes to deliver sociological sides and state-of-the-union reports of the
America
of the 1860s and '40s. I didn't do that. I mean, what were these guys doing in
Woodstock
? It's a weird story. In 1966 Dylan is chasing the Beatles commercially and catching up. He is going to play Shea Stadium. But the motorcycle accident gets in the way, and he cancels the tour, an ABC television special, and his novella Tarantula. He also cancels all [previously scheduled] recording commitments. Yet 1967 is the year Dylan spends the most time recording and writing the greatest number of quality songs. Off the top of my head: "This Wheel's on Fire," "You Ain't Going Nowhere," "I Shall Be Released," "Lo and Behold," "Tears of Rage," plus "All Along the Watchtower" on John Wesley Harding. And none of this stuff, except "Watchtower," comes out at the time. We simply don't have a story of a pop-culture figure that's similar.



Why do you think Dylan recorded this music the way he did?



I obviously don't know the real answer. No one knows the official story, but I kind of pieced it together. Here's my speculation: Dylan is up in
Woodstock
, but he has this wonderful band on retainer, who are doing bugger all in a
New York
hotel — partying on Bob Dylan's tab. So it's [manager] Albert Grossman saying to Dylan, "The money is going to dry up. We canceled our tours and an ABC special. Bob, do something." Grossman's twin plan is to release a greatest-hits package and get this band up to
Woodstock
to fire Dylan up. If Grossman takes Bob to a
New York
studio, he might scare the horses, so to speak. So he'll arrange something informally. There's no clock, and Dylan is allowed to find a direction in comfort. And they just stumbled into this. The reason why I think this is, the initial _base_ment Tapes [recorded in spring of 1967] are just covers and songs made up on the spot. They don't get serious until we get into summer, and they don't get real serious until September.



A lot of rock critics _frame_ The _base_ment Tapes as the great oddity in Dylan's discography, but you believe it's his greatest achievement of the '60s.



Most baby boomers think the great Dylan hat-trick is Bringing It All Back Home, Highway 61 Revisited, and Blonde on Blonde. But for me its Blonde on Blonde, The _base_ment Tapes, and John Wesley Harding. Joe Boyd, producer for Fairport Convention, believes Dylan would've never gotten away from all those fanatics on his roof who thought he was God, had he made a proper album of these tapes. It seems as if this whole period was Dylan's reaction to all the intense media attention. It was absolutely out of control by mid-'66. He now had a family and wanted some peace. So he dropped out.



It's interesting how you argue that Dylan and the Band's informal home-recording process, as if it's just a bunch of friends jamming, is a major influence on not just modern rock, but indie music as well.



I think the lo-fi quality sound of all the bootlegs out there has inspired the indie approach. And, of course, now we have U2, Daniel Lanois, and his crowd recording in his house. Neil Young records things in a barn on his ranch. These folks are all inspired by Dylan and the Band. The Beatles too, for their Get Back sessions [in 1969].



Ironically, the original master tapes sound much better than the bootlegs and the 1975 LP, right?



People who have heard the very original tapes — some of Neil Young's crowd — say Garth [Hudson, keyboardist for the Band] did a wonderful job of engineering. It's not the primitive sound that all of us have heard.



Any chance of an officially expanded release one of these days?



Well, Dylan didn't make himself available for my book, but I know for a fact that Dylan knows of it. I've been lobbying for an expanded version of The _base_ment Tapes. I'm hoping one day they'll go for it in Dylan's Bootleg Series. You could easily do a three-CD remastered collection.


http://clevescene.com/2007-10-24/music/turn-on-the-_base_ment-lights/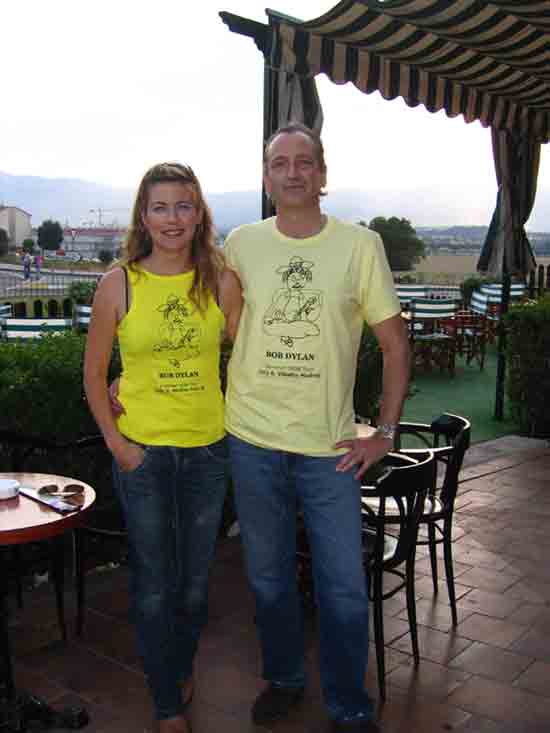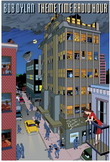 http://blip.tv/file/450465