Se muestran los artículos pertenecientes a Junio de 2011.
Ragas are soliloquies and meditations, passionate melodies that draw circles and triangles in a mental space, a geometry of sounds that can turn a room into a fountain, a spring, a pool."

By Octavio Paz

Dhrupad is the most ancient style of Hindustani classical music that has survived until today in its original form. The Dhrupad tradition is a major heritage of Indian culture.

The nature of Dhrupad music is spiritual. Seeking not to entertain, but to induce feelings of peace and contemplation in the listener. The word Dhrupad is derived from DHRUVA the steadfast evening star that moves through our galaxy and PADA meaning poetry. It is a form of devotional music that traces its origin to the ancient text of Sam Veda. The SAM VEDA was chanted with the help of melody and rhythm called Samgana. Gradually this developed into other vocal style called 'Chhanda' and 'Prabandha' with introduction of verse and meter. The fusion of these two elements led to the emergence of Dhrupad.

By the eleventh Century Dhrupad music had crystallised into a perfect form which has retained its original structure and purity through to the present day. One significant characteristic of Dhrupad is the emphasis on maintaining purity of the Ragas and the Swaras. According to some accounts, Dhrupad was sung in the temples, the singer facing the divinity. From this early chanting, Dhrupad evolved into a sophisticated classical form of music.
The language of Dhrupad changed from Sanskrit Brij Bhasha some time between the 12th and the 16th century. About six centuries ago, Dhrupad came to be patronised by the royal courts and its complex rendering became intended for highly sophisticated royal audiences. The compositions became more secular. Some were written in praise of the emperors; others elaborated on music itself. However the pristine nature of Dhrupad survived and even today we hear this majestic form of music performed like it was more that 500 years ago in the royal courts of the emperors and kings of India.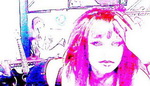 You say here kitty, ain't she so pretty, and just itty bitty, one pussy meow now, sneaky kitty poppin out, sniffing for a trout, wiggle booty and mount, in your lap about, lip lickin and bitten, smitten with this kitten, you found me drifting, now here be sitting, lick my white mittens, give you some spitting, rub on your leg, pet loves to beg, wanting on some drink, milk lapping trembling thing, give me some swimmy, showing off, see me,can't be set free, sitting in a tree, humming on top thee

Ariel Katana



http://mp3.zing.vn/album/The-Bootleg-Series-Vol-8-Tell-Tale-Signs-Rare-and-Unreleased-1989-2006-CD3-Bob-Dylan/ZWZ98WAW.html?st=2
Mary and the Soldier (Unreleased, World Gone Wrong) - Bob Dylan
Come all you lads of high renown that will hear of a fair young maiden
And she roved out on a summer's day for to view the soldier's parading

They march so bold and they look so gay
The colours fine and the bands did play
And it caused young Mary for to say
"I'll wed you me gallant soldier"

She viewed the soldiers on parade and as they stood at their leisure
And Mary to herself did say: "At last I find my treasure

But oh how cruel my parents must be
To banish my true love away from me
Well I'll leave them all and I'll go with thee
Me bold and undaunted soldier"

"Oh Mary dear, your parents' love I pray don't be unruly
For when you're in a foreign land, believe you rue it surely

Perhaps in battle I might fall
From a shot from an angry cannonball
And you're so far from your daddy's hall
Be advised by a gallant soldier."

"Oh I have fifty guineas in right gold, likewise a hearth that's burning
And I'd leave them all and I'd go with you me bold undaunted soldier

So don't say no but let me go
And I will face the daring foe
And we'll march together to and fro
And I'll wed you, my gallant soldier"

And when he saw her loyalty and Mary so true-hearted
He said: "Me darling, married we'll be and nothing but death will part us

And when we're in a foreign land
I'll guard you, darling, with my right hand
And hopes that God might stand a friend
With Mary and her gallant soldier"
Marching to the city
Well I'm sitting in church
In an old wooden chair
I knew nobody
Would look for me there
Sorrow and pity
Rule the earth and the skies
Looking for nothing in
Anyone's eyes

Once I had pretty girls
Did me wrong
Now I'm marching to the city
And the road ain't long

Snowflakes are falling
Around my head
Lord have mercy
It feel heavy like lead
I been hit too hard
Seen too much
Nothing can heal me now
But your touch

Once I had a pretty girl
She done me wrong
Now I'm marching to the city
And the road ain't long

Loneliness
Got a mind of its own
The more people around
The more you feel alone
I'm chained to the earth
Like a silent slave
Trying to break free
Out of death's dark cave

Once I had a pretty girl
Done me wrong
Now I'm marching to the city
And the road ain't long

Boys in the street
Beginning to play
Girls like birds
Flying away
I'm carrying the roses
That were given to me
And I'm thinking about paradise
Wondering what it might be

Once I had a pretty girl
She done me wrong
Now I'm marching to the city
And the road ain't long

Go over to London
Maybe gay Paree
Follow the river
You get to the sea
I was hoping we could drink from
Life's clear streams
I was hoping we could dream
Life's pleasant dreams

Once I had a pretty girl
But she done me wrong
Now I'm marching to the city
And the road ain't long


Well the weak get weaker
And the strong stay strong
The train keeps rolling
All night long
She looked at me
With an irresistable glance
With a smile
That could make all the planets dance

Once I had a pretty girl
She did me wrong
Now I'm marching to the city
And the road ain't long

My house is on fire
Burning to the skies
I thought the rain clouds
But the clouds passed by
When I'm gone
You'll remember my name
I'm gonna win my way
To wealth and fame

Once I had a pretty girl
But she did me wrong
Now I'm marching to the city
And the road ain't long
http://mp3.zing.vn/bai-hat/Marchin-To-The-City-Unreleased-version-2-Time-Out-of-Mind-Bob-Dylan/ZWZB9I0I.html